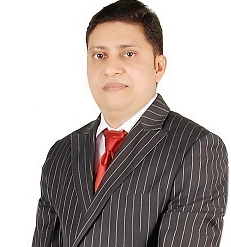 It is a matter of great pride and privilege to be part of an esteemed organization Yesbud University that prepares today's students to meet the challenges of the industry. I have seen the way Yesbud University has become pioneer in providing superior quality education in the neighbouring areas and has also been engaged to extend these efforts around the global.
This has become possible with the untiring efforts of our teaching faculty which imparts teaching by relating it with real life scenarios and current developments in their respective fields. The course curriculum is devised based on the ever changing needs of industry so that students are absorbed in industry smoothly and shine as proud alumni of Yesbud University.
We know that for students to compete internationally and become a part of world top companies they need to be creative and innovative. We cultivate in our students right attitude with blend of extra-ordinary soft skills and hence make their personality impressive so that they become brand ambassadors of not only Yesbud University but also the companies with which they get associated.
It is creditable that the Yesbud University has shaped a contemporary system to make it conceivable for staff and students to appraise their skills and talent in numerous areas like arts, social sciences, entrepreneurship and technical disciplines because of rapid evolving developments in modern era. Anyone can notice that the Yesbud University has been fairly effective in sustaining equilibrium amid contemporary leanings in teaching and its ancient civilisations.
As an Vice Chancellor, I am confident that efforts to excel in the field of higher education and the inculcation of moral values in the students at the Yesbud University Online Campus will continue in future with a greater zeal.
We as a team at Yesbud University strive to prepare students to become better citizens of our country irrespective of their cultural and financial background and contribute in the welfare of society and country's development.
I, therefore, call students to be part of this revolution led by Yesbud University and become the stars of tomorrow.